New Passholder Benefit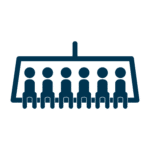 Buddy Passes are exclusive lift ticket discounts that select passholders can share with
friends, family, neighbors, your cousin's boyfriend—anyone!
Use this guide to determine how to share the love during the 2017-2018 winter season.
 All About Buddy Passes
Q: How many buddy passes do I receive?
A: If you purchase your season pass by April 28, 2017, your pass will come pre-loaded with 12 Buddy Passes.
Q: What's the discount?
A: Six (6) of your passes will be available at 25% off, and the remaining 6 will be available at 15% off.
Q: Are there blackout dates?
A: No.
Q: How many can I use at one time?
A: Use one Buddy Pass per visit or use all of them up on one day—the choice is yours.
Q: I want to save my 6 best discounts for my 6 best friends. Can I do that?
A: Yes! You can select when you use the 25% discount and when you use the 15% discount.
Q: How do I get my Buddy Passes?
A: Visit your favorite ticket office window and present your pass, along with the lucky Buddy or Buddies who are getting
the discounted ticket. Either you or your Buddy/Buddies can pay for the discounted lift ticket.
Q: Where can I use the Buddy Passes?
A: It depends on which pass you purchased:
If you purchased the Power Pass, your Buddy Passes are good at any resort (Purgatory, Snowbowl, Hesperus, Sipapu or Pajarito).
If you purchased the Local Power Pass PLUS+ or Local Power Pass, your Buddy Passes are good at Hesperus, Sipapu or Pajarito.
Use all of them at one resort or pick and choose wherever you would like.
Q: Which season passes include the Buddy Pass benefit?
A: Buddy Passes are only available on the Power Pass, Snowbowl Power Pass, Local Power Pass+ and Local Power Pass.
They are not available on Value, Family or any other promotional season passes.
Questions? Call us at (970)259-3711.